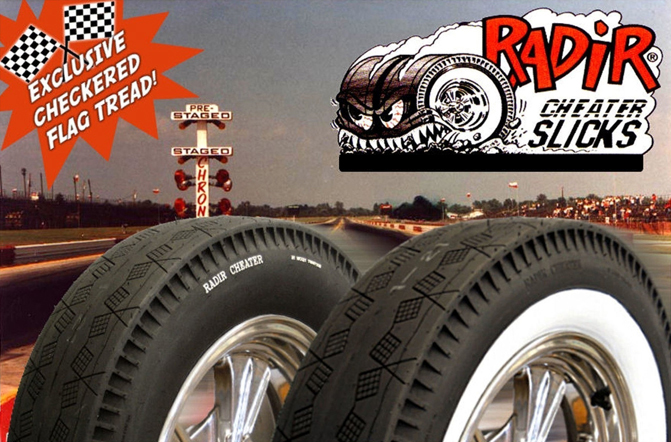 Features:
Radir Dragster Slicks and Grooved cheater slicks feature a 1 piece design.
The 7" tires come with the checkered flag tread, and the 8", 9", 10" & 12" do not.
4 Ply Sidewalls, Tubeless.
Distinctive "Pie Crust" Ribbed sidewalls for that Nostalgic look..
Can be turned in for the black wall look.
Radir Dragster Slicks ARE NOT RECAPS.
Radir Dragster slicks are an all new design made with modern technology, But with correct early/mid sixties styling.
Available in a true slick or Grooved cheater style.
Please call or email us or our dealers to place an order, most orders ship same day!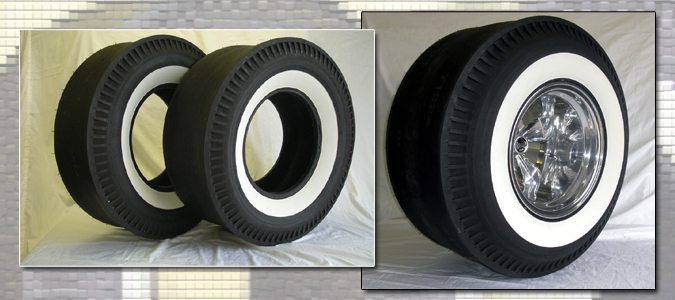 | | | | | | |
| --- | --- | --- | --- | --- | --- |
| SIZE | White Wall Size | Height | Section Width | Tread Width | Suggested Rim Size |
| 7.75-14" | 2-1/4" | 26-1/2" | 8-9" | 7" | 14x5.5" thru 14x8" |
| 7.75-15" | 2-1/4" | 26-1/2" | 8-9" | 7" | 15x5.5",Thru 15x8" |
| 8.20-15" | 2-1/4" | 29" | 12" | 8-1/2" | 15x6",Thru 15x10" |
| 10.00-15" | 2-1/4" | 29-1/4" | 13" | 10"" | 15x8",Thru 15x12" |
| 9.00-15" | 2-3/4" | 32" | 12 1/2" | 9" | 15x7" thru 15x12" |
| 12.00-15" | 2-3/4" | 32" | 15" | 12" | 15x10" thru 15x15" |
| 9.00-16" | 2-3/4" | 32" | 12 1/2" | 9" | 16x7" thru 16x12" |
| 12.00-16" | 2-3/4" | 32" | 15" | 12" | 16x10" thru 16x15" |